Farm Creek Preserve
16 acres (low tide)
Multiple Habitats – Tidal estuary, wooded glens, open meadows
Trails & Scenic Vistas
Open to the Public Dawn to Dusk
34 Sammis Street, Norwalk, CT 06853
History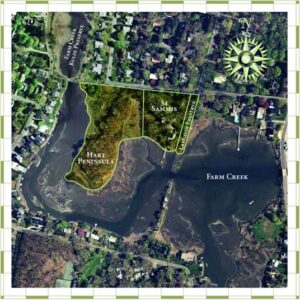 This property was acquired in 4 distinct transactions. #1 Kulze Property, acquired 1992 from the Nature Conservancy. #2 Langdon Trail, acquired 1992 from the Nature Conservancy. #3 Hart Peninsula, acquired via conservation easement from the City of Norwalk in 2007. #4 Schoendorf Preserve at Farm Creek, acquired in 2008.
Fundraising-the Campaign for Farm Creek Preserve– began in 2006 and ended in 2011; raising more than $4.3 million, with assistance from the Conservation Fund of Alexandria VA; State of Connecticut-DEEP, City of Norwalk; the Sixth Taxing District of Norwalk; and more than 900 households.  Read more about it  Click Here
The sheer size of the fundraising effort from a small Land Trust attracted the attention of Forbes Magazine and others.
The Schoendorf Preserve was the site of a large, well-known home dating back to 1907. Today, only the stone barn remains and is used by the Education Program.
Education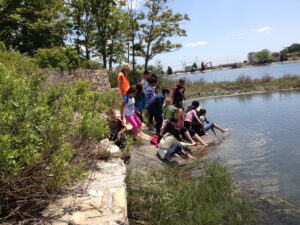 A tidal estuary is a rich resource and nursery for the entire food chain. With accessibility and variety, it is no wonder it is enjoyed by teachers and their children, providing a perfect setting to reinforce biology, earth science and chemistry teaching modules. Since 2010 several thousand 4th graders from the public schools of Norwalk have visited and learned and enjoyed. And classes of the middle schools and high schools have performed water testing experiments, and helped build and maintain trails.
Today
A shade garden along the Langdon Trail.
A wildflower garden at the upper meadow for birds and insects.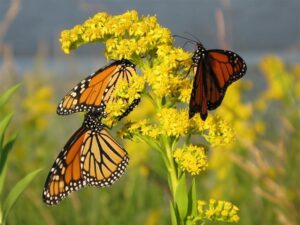 Milkweed and other wildflowers in the upper meadow are attracting the Monarch Butterfly and pollinators. We are on the Pollinator Pathway for Norwalk CT.
Birds –native and migratory rest safely.
Peace and Quiet everywhere.
Trails on Schoendorf and Langdon for quiet exploration.
Note:  if you visit with dogs,  please keep them on a leash.  If they roam, they may collect ticks and poison ivy oils.
Video by students at Sacred Heart University captures the fun we all had creating this Preserve: https://www.youtube.com/watch?v=e-zp2vt66c4