Welcome
Welcome to the Norwalk Land Trust website. "We acquire land and preserve it in its natural state for the benefit of Norwalk, CT residents, now and forever. "
We currently steward 32 parcels of land, just over 102 acres.
Join the Norwalk Land Trust Saturday September 30th at White Barn. Lower Fairfield County land trusts have organized a series of walks this fall. Let's explore the area and soak in the beauty of the season together.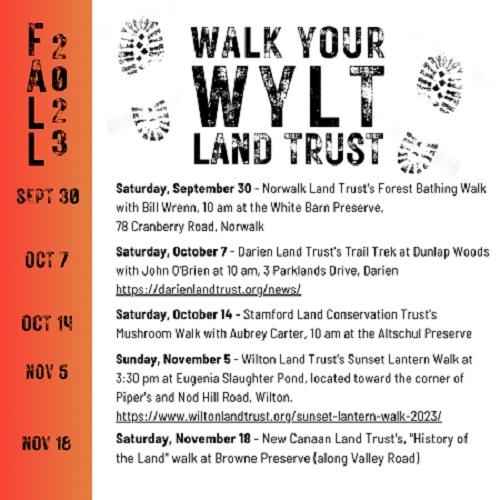 Rowayton Gardeners Environmental Committee – SIP 'N SHARE
Join us in our first Sip 'n Share meeting on Tuesday, October 3 from 7 – 8 pm at the Potting Shed on Highland Ave behind the Rowayton Community Center.
Learn about the Norwalk Land Trust, whose goal is to: "Acquire land and preserve it in its natural state for the benefit of Norwalk, CT residents, now and forever." A prime example of land, stewarded by the Land Trust, is Rowayton's own Farm Creek Preserve. After a brief video presentation there will be the opportunity for questions and discussion with Land Trust representatives.
Guests are welcome, so feel free to bring along a friend or family member if you wish. Seasonal refreshments will be served. No need to RSVP. We look forward to seeing you at the Potting Shed!Questions or need further info? Contact: Carol Hooper (carolh19@optonline.net).
Outdoor Classroom for 4th Graders
Our 16-acre property at Farm Creek provides a perfect location for a class trip. The 4th grade science curriculum includes concepts that can be explored and seen first-hand. A trained volunteer field guide takes children in groups of 6 on a 1 hour walk exploring wetlands, highlands and open meadow.
This program and bus transportation are free.
Our education program for Spring 2023 has just wrapped up with 6 schools participating and 393 students exploring Farm Creek Preserve. Thank you to the 23 volunteer guides plus school teachers, without whom we could not have this program. Looking forward to Spring 2024 and the next classrooms of 4th graders.
NLT Receives National Funding…
National Fish and Wildlife announced its annual Long Island Sound Futures Fund awards on Monday, Dec. 12 in Washington D.C. Norwalk Land Trust received $50,000 to restore its Hoyt Island property. Work started on this tiny island in 2013 to create a bird sanctuary to commemorate NLT's 40th anniversary. However the burned-down ruins contained asbestos, PCB's and other toxic contaminants which required significant fundraising over the past 9 years. With tremendous help from neighbors, friends, foundations and CT DEEP, the clean-up was finished last year. It can now be replanted with appropriate trees and bushes, and encouraged to become healthy habitat for birds, bats and small animals.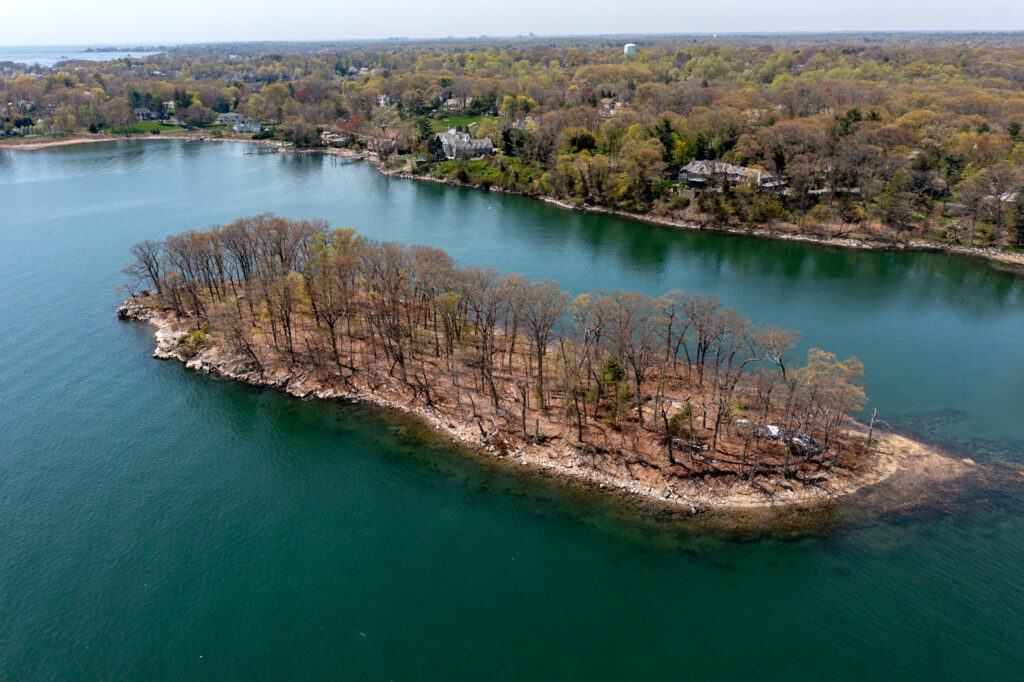 ******************************************************************************************
A Trip Down Memory Lane. Fundraising for Farm Creek and enjoying a fall day. Thank you Miki Alicastro for this memory. And thank you John Lennon for such a perfect song.