Welcome
The Norwalk Land Trust acquires land and preserves it in its natural state for the benefit of Norwalk, CT, residents now and forever.
We currently steward 32 parcels of land, just over 110 acres.
The Margaret and Steve Holton Bird Sanctuary at Hoyt Island
During the recent Norwalk Land Trust annual meeting, a wonderful presentation was given by NLT Vice President and Stewardship Chair, Mary Verel.  Both narrative and slideshow can be found through the links below.
You will find interesting the history of Hoyt Island and its transformation to The Margaret and Steve Holton Bird Sanctuary.  This story will be an ongoing one.  Let's see what the Spring of 2024 brings.
CLICK HERE to view the history narrative. CLICK HERE to view the accompanying slide show.
The November 15 opening reception of the show, Celebrating Norwalk's Natural Beauty and Norwalk Land Trust's annual meeting was enjoyed by all attending.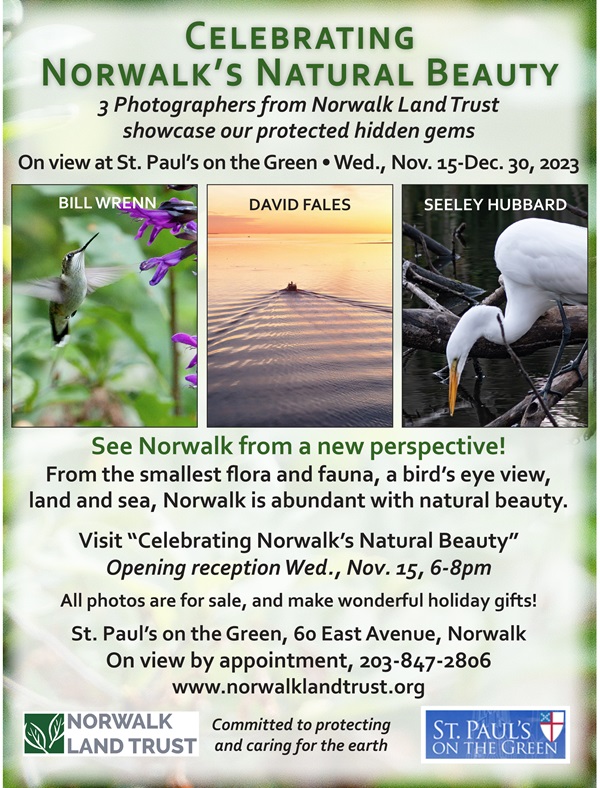 All photographs are for sale during the Holiday Market at St. Paul's (Dec. 1-10) to benefit the Land Trust and St. Paul's. Gallery hours are Monday-Thursday, 10:00 A.M.–1:00 P.M
Hope to see you there. Click here to Read more about it!
Outdoor Classroom for 4th Graders
Our 16-acre property at Farm Creek provides a perfect location for a class trip. The 4th grade science curriculum includes concepts that can be explored and seen first-hand. A trained volunteer field guide takes children in groups of 6 on a 1 hour walk exploring wetlands, highlands and open meadow.
This program and bus transportation are free.
Our education program for Spring 2023 has just wrapped up with 6 schools participating and 393 students exploring Farm Creek Preserve. Thank you to the 23 volunteer guides plus school teachers, without whom we could not have this program. Looking forward to Spring 2024 and the next classrooms of 4th graders.
******************************************************************************************
A Trip Down Memory Lane. Fundraising for Farm Creek and enjoying a fall day. Thank you Miki Alicastro for this memory. And thank you John Lennon for such a perfect song.