Home
Welcome to the Norwalk Land Trust website. We acquire land and preserve it in its natural state for the benefit of Norwalk, CT residents, now and forever. We currently steward 30 parcels of land, about 100 acres.
What's Happening at NLT
March 29. We begin to remove the contamination on tiny 3-acre Hoyt Island. This is being done by several specialists in hazardous waste containment and we can only cheer from the sidelines. The work will take about 10 days. Update April 22: almost finished.
April 24. While the village of Rowayton has its annual Trash Bash, we will have a clean up of Farm Creek Preserve. If you can bring your own gloves and a rake, we will tidy up entire site, including the barn, which housed many squirrels over the winter. 10 am to 1 pm
Norwalk's recycling regulations. Here is a new guide which may help:Recycling Guide
Last summer. . .
Two scout troops completed projects at our five-acre White Barn easement. We are bringing back the American Chestnut tree to Norwalk and six small trees were planted on June 26th. A walking trail on our five acres has been created and the area is filled with small animals and birds.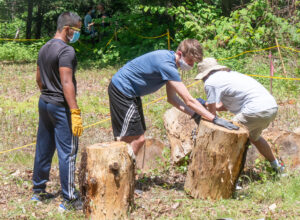 A Trip Down Memory Lane. Fundraising for Farm Creek and enjoying a fall day. Thank you Miki Alicastro for this memory. And thank you John Lennon for such a perfect song.