Home
Welcome to the Norwalk Land Trust website. We acquire land and preserve it in its natural state for the benefit of Norwalk, CT residents, now and forever. We currently steward 30 parcels of land, about 100 acres.
What's Happening at NLT
Ongoing…. We began to remove the contamination on tiny 3-acre Hoyt Island on March 30. This is being done by several specialists in hazardous waste containment and we can only cheer from the sidelines. Complicated from the beginning, soil testing has revealed more contamination hidden under concrete slabs and pushed out completion date to mid-May. Cost overrun will be a challenge for Norwalk Land Trust.
Many friends came out on April 24th to clean up our property at Farm Creek Preserve. Trails were built, meadows cleaned up, barn swept out – all on a beautiful day. Thanks to one and all!
Next Event is a shared event: Saturday, May 15, 10AM-1PM. Trees for Bees! Volunteer Tree Planting Event. Oyster Shell Park, Norwalk. Join us to help plant trees and shrubs along the Norwalk River. Bring shovel, water bottle, work gloves. We will wear masks and social distance. Meet at the park near Ann Street on North Water, down from the Aquarium.
Thank you to KJ Tree for grant funding that is making this project possible. KJ Tree and One Tree Planted, together, are funding the planting of over 3000 trees and shrubs in 6 of our watershed towns along with Darien and Westport. This effort is part of the Pollinator Pathway Northeast and will help restore bird and pollinator habitat as well as protect water quality in the Norwalk River and Long Island Sound. Questions and to register, contact Info@norwalkriver.org.
The next tree planting will be hosted by Norwalk Land Trust on Saturday, June 5. Details coming.
Last summer. . .
Two scout troops completed projects at our five-acre White Barn easement. We are bringing back the American Chestnut tree to Norwalk and six small trees were planted on June 26th. A walking trail on our five acres has been created and the area is filled with small animals and birds.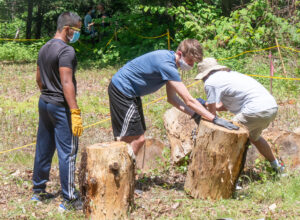 A Trip Down Memory Lane. Fundraising for Farm Creek and enjoying a fall day. Thank you Miki Alicastro for this memory. And thank you John Lennon for such a perfect song.