News/Events
Planning for 2020.
Give where you live!  A 24-hour online fundraising event will be Thursday, February 27.  We will focus on giving between 1 and 2 pm and vie for a special Environmental Power Hour prize.
Our Annual Meeting will be on Monday evening, April 20 .  Norwalk City Hall's Community Room. Our speaker will be Carla Marina Marchese, founder/creator/owner of Red Bee Honey.
Celebrating the Solstice and Equinox with early evening cocktail gatherings at Farm Creek Preserve will take place on Saturday June 20 and Saturday, Sept. 19.
Our Earth, Your Call – Adult Learning Series.  Award-winning lectures are back for a second year.
February 26 Our Earth, Your Call  About those pesticides….
March 25 Our Earth, Your Call   watch Biggest Little Farm at Rowayton Community Center
April 29 Our Earth, Your Call    focusing on collecting food waste
In September 2018, we held a Discovery Day at our White Barn property.  The hit of the day was Skyhunters in Flight, presented by Falconer Brian Bradley.  Here are highlights of this wonderful demonstration.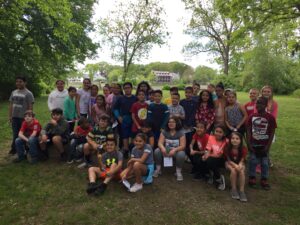 National Fish and Wildlife Foundation Grant
Norwalk Land Trust was selected by the National Fish and Wildlife Foundation for a matching grant of $20,000.  NLT will develop a salt marsh restoration demonstration program, improving  5-8 acres of degraded intertidal salt meadow.
Tax Help  Recent Federal legislation provides help to conservation non-profits such as the Norwalk Land Trust. First, the tax-deductibility for conservation easements is now permanent.  Second, the ability to make a direct donation out of your IRA (if you are over 70 1/2) to any non-profit is tax-free, permanently.

AMAZON SHOPPERS:  Amazon teams up with the Norwalk Land Trust.  Enter the Amazon website via www.smile.amazon.com and direct a small percentage of your purchase to the Norwalk Land Trust.  Easy, easy and every little bit helps.  Thanks.
Fodor Farm History  We are proud to have been an early supporter of  Fodor Farm.